Friends Are The Family You Choose For Yourself
Friday, March 1, 2013
The two End Construction reunion shows held at Club Passim this past weekend to benefit the Ferguson Family Fund were a huge success and we are grateful to all who were involved. Jim Infantino, Brian Doser, Ellis Paul, and Jon Svetkey put on two great performances and brought us back to a time when songwriters were flocking to the area because of the fledgling Cambridge/Boston folk scene. Robert Haigh kindly lent his services as MC for the shows further cementing the bond to the past and the early days of End Construction at The Old Vienna Kaffeehaus in Westborough, MA. Josh Kantor, who was a last minute replacement on keyboards for the January benefit show, joined in on accordion for parts of both shows and continued to amaze with his versatility.
Some other thank yous are in order. Club Passim and manager Matt Smith graciously hosted all three benefit shows and the club, as always, was welcoming to the large crowds that came out to the shows. Scott McLennan, who wrote a piece about the End Construction reunion that appeared in Friday's edition of the Boston Globe (see the link below). Jordan Rich who had Jim, Jon, and Brian on his radio show on WBZ prior to the show and Monica Mansfield (host of the Mostly Rock and Roll TV show) who also took part in the WBZ interview.
Of course, all of these great deeds would be for naught without everyone who came out to support the shows as well as those who donated online or sent checks for the Ferguson Family Fund. The response has been overwhelming and we are tremendously grateful for everyone's generosity, sacrifice, and support.
Finally, thank you really isn't sufficient for these next two characters. Heather Quay and Jon Svetkey were the originators of these benefit shows and set up the Ferguson Family Fund in the first place. Everyone should have friends like these. The phone call where Jon first told me that he had set up the shows is still fresh in my mind and I was touched and humbled at the time, but that pales in comparison in light of all that they did to turn these shows into events. The End Construction crew even arranged for the shows on Sunday to be recorded for release. The link to the End Construction website below has information about pre-ordering those recordings, which are being mastered by Dan Cantor and will be available for download very soon.
Again, a huge thank you to all of our friends, family, and all who continue to support us. You are making a tremendous difference during an incredibly challenging time.
Be well,
Stuart and Lyn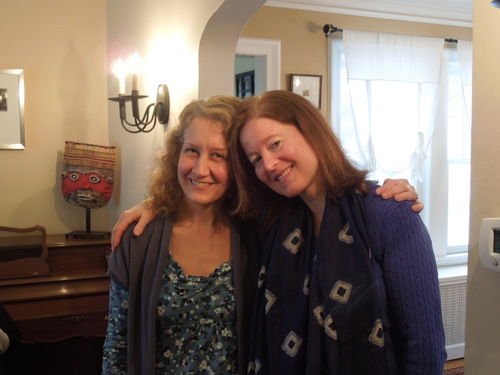 Heather Quay and Lyn O'Conor Ferguson. Photography by Brian Doser